North Texas Giving Day
September 18, 2014 - 6 AM to Midnight
GRRNT works hard every year to rescue, care for, and place in permanent loving homes, neglected or unwanted Golden Retrievers and to educate the general public about responsible pet ownership and the special qualities of the Golden Retriever breed in the North Texas area. We can't do that without the help of our volunteers and our North Texas community. If you are able, we'd ask that you donate to #GRRNT on North Texas Giving Day, September 18, 2014. On #NTXGivingDay, every donation over $25 will be matched thus multiplying your gift and giving us the opportunity to help more Goldens in need. Thank you for considering us and please help us spread this message.

Also, if the company you work for matches donations, please make sure you register your donation as the company match can also qualify for matching funds for #NTXGivingDay. Talk to your HR department today!


The 2015 GRRNT Calendar


GRRNT is excited to announce the 2015 Calendar. 100% of all proceeds support the operations of GRRNT in rescuing and caring for Golden Retrievers in the North Texas area.


Looking for a special way to honor your pet? Feature their picture and a short personalized message (such as "Teddy's Adoption Day" or "Goldie's 5th Birthday") on a day in the 2015 GRRNT Calendar! One date (with picture and message) costs $30 or reserve two dates for $50. Any pet (cat, dog, bird, snake, or ?) can be featured, but please, no humans.

Want to see your dog as a featured, Dog of the Month in the 2015 GRRNT Calendar? Is your dog a GRRNT alumnus who hasn't already been featured as one of our Dogs of the Month in a past calendar? Then send in up to three high-resolution photos to be considered. We'll be picking our favorites in September 2014 for the 2015 GRRNT Calendar. Email your pictures to calendar@goldenretrievers.org.

Click here to pre-order your 2015 GRRNT Calendar or to Buy your dates today!
PetMeds has generously donated a box of non-prescription, OTC (over- the-counter) to GRRNT. They have a wonderful donations program and we really appreciate their generosity.

SUPPORT GRRNT WHILE YOU WALK YOUR DOG WITH WOOFTRAX!
As of September 8, 2014, we have has 20 people who have walked 396 times for nearly 567 miles. Every mile they walk results in donations to GRRNT from WoofTrax. Download the app today (http://www.wooftrax.com/get-the-app/) and support GRRNT while walking your dog!

Additional details at http://www.wooftrax.com/

SUPPORT GRRNT WHILE YOU SHOP WITH AMAZON!
Get $5 off any BarkBox subscription and support our rescue! For every coupon used on BarkBox.com, our rescue will get a $15 donation from BarkBox.
Be sure to use our special promo code: GolBBX1.
Help us meet our goal of 100 subscriptions and raise $1,000!

What is BarkBox? BarkBox is a New York City based dog-lovin' company that sends high quality dog products to your pup every month. Each box is full of 4-6 goodies like bones, bully sticks, toys, treats, gadgets, shampoos, hygiene products, and more. http://www.barkbox.com

BarkCare is an app that gives you access to a real, live, smiling vet and dog wellness team 24/7, 365 days a year! When you sign up with our unique code GolBBX1, you'll get $25 off and our organization will get a $50 donation from BarkCare. Help us raise $2,500 - sign up today! http://www.barkcare.com

Sign up today and use our code: GolBBX1

When you start receiving your BarkBox, snap a couple of pictures of the box with your dog(s) and send the pictures our way. We'll post some of our favorites right here on our website. Make sure you give us your name and your dog(s) name and tell us what you like about BarkBox.


Check out GRRNT Alumni "Chance" opening a recent BarkBox!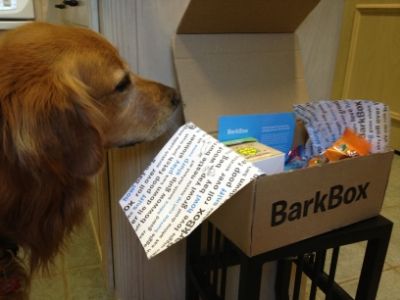 Send your GRRNT Alumni BarkBox opening pictures to webmaster@goldenretrievers.org so we can include them on our website!
Fosters Needed in Dallas and Fort Worth!
Grey Muzzle Grant
Thank you to Grey Muzzle for awarding GRRNT with a grant to help us continue our work with Golden Oldies! Grey Muzzle supports senior dogs across the nation regardless of breed. We love our senior Goldens and we have been very successful at finding them forever homes. We adopted out over 30 senior dogs in 2012! Grey Muzzle's grant will help us provide the medical care for the seniors we rescue so that they are healthy and ready to enjoy their golden years with a forever family.
Recurring Donations
Celebrate 15 years of finding forever homes by signing up for recurring donations. Any amount will make a huge difference and will help ensure that GRRNT can continue to help unwanted or abandoned goldens for another 15 years! How about $15 a month in honor of 15 years? You can set up an automatic or recurring donation to GRRNT by clicking here.
Attention Kroger Shoppers!
Help support GRRNT when you shop at Kroger! Register online at http://www.krogercommunityrewards.com/. All you need is a Kroger Plus card, available at the customer service desk at any Kroger, account to link to GRRNT. Additional details on the Kroger Community website: http://www.krogercommunityrewards.com/.

Thank you for supporting GRRNT!
Get involved
If you are looking to get involved, consider assisting in a leadership position such as intake and foster coordination, adoptions, events, and fundraising, just to name a few! We are always interested in new ideas and fresh perspectives. If you would like more specific information about this opportunity to get involved, please email support@goldenretrievers.org.
Please support our partners
We would like to thank Three Dog Bakery, Bass Pro Shops, City Vet and Woof Gang Bakeryfor their support and allowing us to hold meet & greets at their retail locations. Because of their generosity, many goldens have been connected with their forever homes. Please support these businesses when you can and make sure to thank them for helping us rescue goldens!
Order your 2014 GRRNT Calendar now! They make great gifts and 100% of all proceeds support the operations of GRRNT in rescuing and caring for Golden Retrievers in the North Texas area.