GOOSE-17-038 | M | 9 MONTHS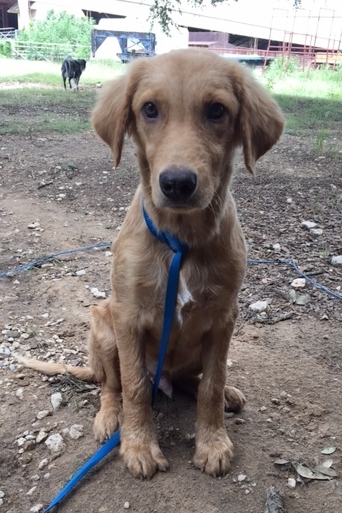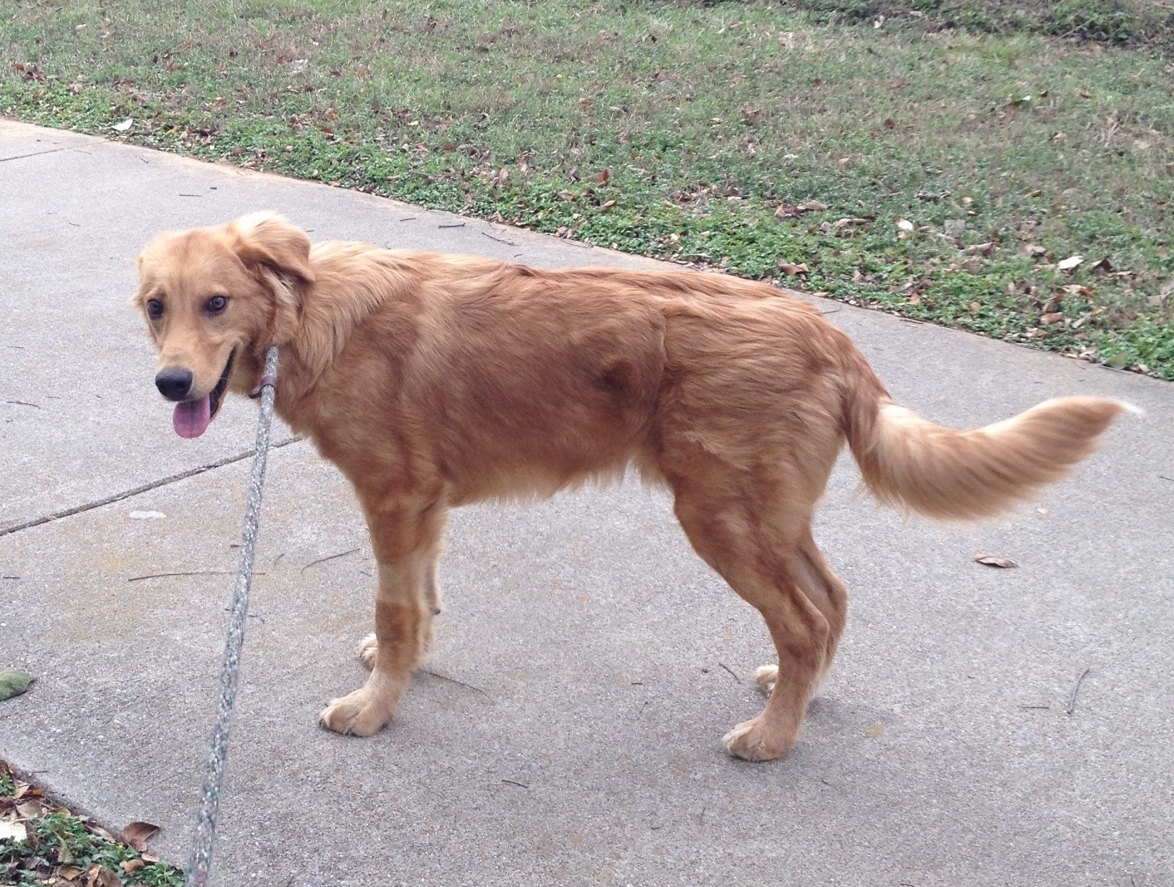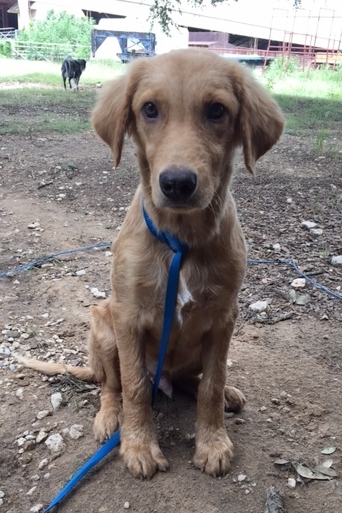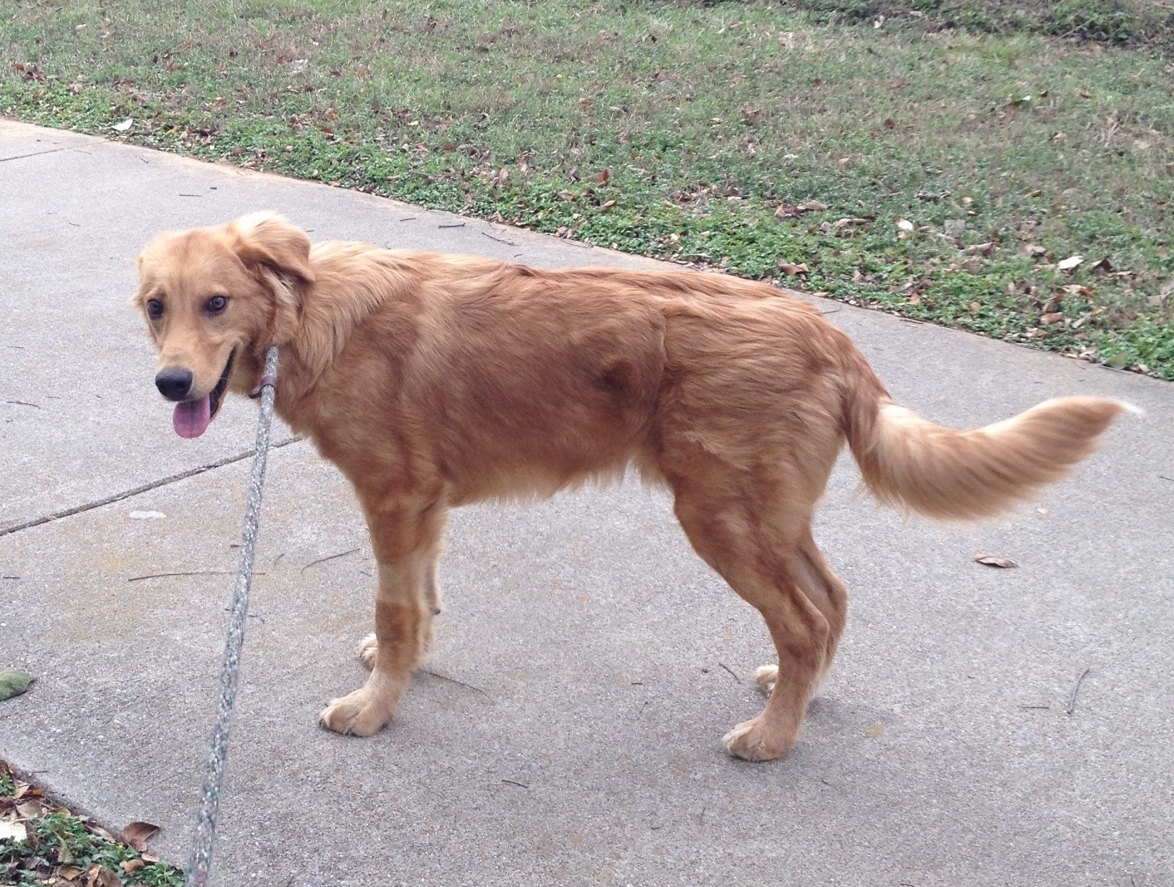 sold out
GOOSE-17-038 | M | 9 MONTHS
Breed: Golden Retriever mix
Gender: Male
Age: 9 months
Medical/Other Notes:
Needs to be neutered
Treating skin infection
Needs a stay home parent!
Click picture above for a much larger view.
Goose is a sweet, shy puppy. He was found out near a lake during a rain storm. He had a skin infection when he arrived in GRRNT care, and we are working on treating that. When he is ready for adoption Goose will need a family with a stay home parent since he is a puppy, and needs the time attention someone home with him can provide.
PROFILE
Goose is a new addition to GRRNT after being rescued from a rain storm. The person who found him held on to him for several days, had him scanned for a chip and called local vets but no one came forward for him. Goose does have a little scar on his nose that looks like he may have been bitten by another dog, so maybe he was looking to leave his previous life and start fresh. He has decided that he really likes having a foster home, but cannot wait to find a home of his own. We are not sure what Goose may be a mix of, but whatever he is, is a sweet, adorable puppy.
Goose came to GRRNT with some skin issues and our vet is trying to determine what is causing this issue. The first thought was possibly spear grass under his skin or even some pellets, as maybe he was looking for some food in someone's trash. He is currently getting medicated baths and antibiotics to help clear up his little rash, and his skin should start to improve soon.
Goose is in a home with three other male Goldens and three cats and gets along with all of them great. Goose has learned that he eats in his crate and will run to his crate at every meal time (and sometimes even when it is not meal time). Goose is sleeping in a crate in the bedroom with all his foster dog siblings and his foster parents. He sleeps all night and doesn't start stirring until at least one of his foster brothers starts first. Goose is loose in the house most of the day (when a foster parent is home) and is a very good house guest. Goose has learned when his foster parents are leaving that he goes in the crate and he loves this, as he gets a cookie every time!!!
Goose is going to need a home where they understand he is a little shy and will take a little time to come out of his shell. He has blossomed in foster home and we expect to continue to see him become more confident. We think he is possibly a Golden/Lab mix and are not sure how big he will get, but Golden Lab mix is a great combination for a family pet. Goose really is doing well in his foster home where someone is home with him most of the time. He is still very much a puppy, and needs a stay home parent in his permanent home. He will not do well in a home where his family works away from home all day, so we will be focusing on families who have someone home full time or at least most of the time. Goose is ready to find his forever family!
UPDATE
11/11/2017 Goose is doing much better. The skin infection and bumps on his skin were caused by a methicillin-resistant staph infection. Goose has been on some antibiotics, some vitamins and given several baths and has finally received the all clear to go to his forever home. Goose will have to have a follow up with a GRRNT vet in about a month for another round of bloodwork, (which GRRNT will pay for) to make sure he continues to make progress.
Goose has always had a really good appetite and LOVES to eat. Whenever it is time for a meal, he becomes a very excited, bouncy, happy boy. Goose is just starting to get some training under his belt, since he felt too bad previously to want to learn much of anything.
Goose is looking for a home where someone is home with him during the day and has some patience to work with him. He is currently in a home with three other male goldens and two+ cats. Goose gets along with all of them, but is still a little unsure about new dogs and so he is not going to be the dog that loves going to a dog park. He is learning to walk nicely on a leash. Goose is loose in the house whenever someone is at home and at night, but is currently crated when his foster parents step out during the day. Goose is good about going in the car and has experienced some car sickness when going to the vet, but no other time!!!
9/21/2017 Goose is still having some skin issues, so his vet did a little surgery today to see if there might be foreign bodies in the wounds. Nothing definite was found, so we will just continue with antibiotics and medicated baths. He is improving, it's just slow healing. Goose needs a little more time to fully heal, he will be ready to find his forever home in a few weeks.
Goose is so cute in his t-shirt and arm bandage after his surgery to clean up his wounds that are taking a while to heal. He sure does love his foster sibling!