KATRINA - D170060 | F | 9 YEARS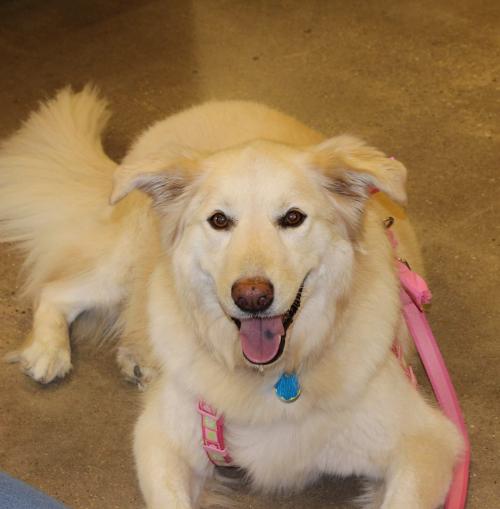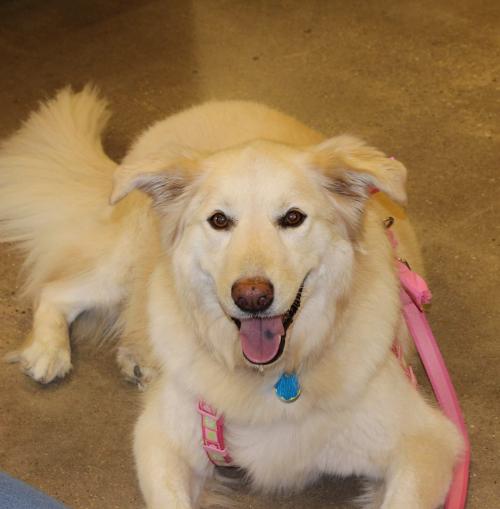 sold out
KATRINA - D170060 | F | 9 YEARS
Pet ID # D170060
Garland, TX
Organization Contact Info:
Saving Pyrs In Need
Garland, TX 75043
Click picture above for a much larger view.
Katrina is a cross post from Saving Pyrs in Need. If you are interested in Katrina please contact SPIN for more information or to submit an adoption application.
Meet Katrina! She is a Golden Retriever mix, and weighs about 70 pounds. Katrina was born around April 2008, but don't let her age fool you!

She still has lots of energy. She loves long energetic walks around the block. She will take you on a 30 minute jog if you can keep up! She loves fetching tennis balls and playing with toys. She even loves water! So if your family enjoys water sports, she'll be right in there with you.

Her owners were in poor health, so they had to give up Katrina. They are sad to see her go, but life's journey left them no choice. Katrina has a naturally happy disposition and seems to be enjoying whatever life brings. She adjusted very quickly to her new foster home.

Her favorite thing is to be wherever you are. She will keep you company wearing her constant, big, sweet smile. If you allow kisses, she's happy to give those also. She really enjoys being petted and loves to be by your side whether it's on the couch, in the yard, or on a car ride for the next great adventure.

Katrina doesn't require a large yard. All she really wants is to be within three feet of your side. She would be fine living in an apartment or townhome as long as she has at least one person home most of the time, so she can fulfill her need to dote on them.

She would do well as an only dog. If she's placed with a doggy companion, it would need to be super calm and subservient to her bossy ways. She can be snippy with dogs, so her new home shouldn't have small ones – we don't want to risk them being injured. She will co-exist with big dogs, but she gets mad when they try to play with her or when they don't immediately bow down to her orders.
SPIN Pyrs are all in foster homes in the Dallas/Fort Worth area. Potential adopters are asked to make travel arrangements if they live elsewhere. All SPIN dogs are spayed or neutered, current on vaccinations and on heartworm prevention. Please go to our website www.SpinRescue.org and fill out an application for this great Great Pyrenees!
Up-to-date with vaccinations
Not good with cats
Not good with dogs
Good with kids
Good with adults: All
Reaction to new people: Friendly
House trained
Available date: 4/11/2017
Birth date: 4/11/2008 (not exact)
Color: apricot and white
Activity level: Moderately Active
Moderate energy level
Exercise needed: Moderate
Yard required
Requires fence: 3 foot
Has Basic Training
Owner experience needed: None
Likes to vocalize: Quiet
Shedding: Moderate
Grooming: Moderate
Indoor/outdoor: Indoor Only