SPIKE - 16-149 | M | 2.5 YEARS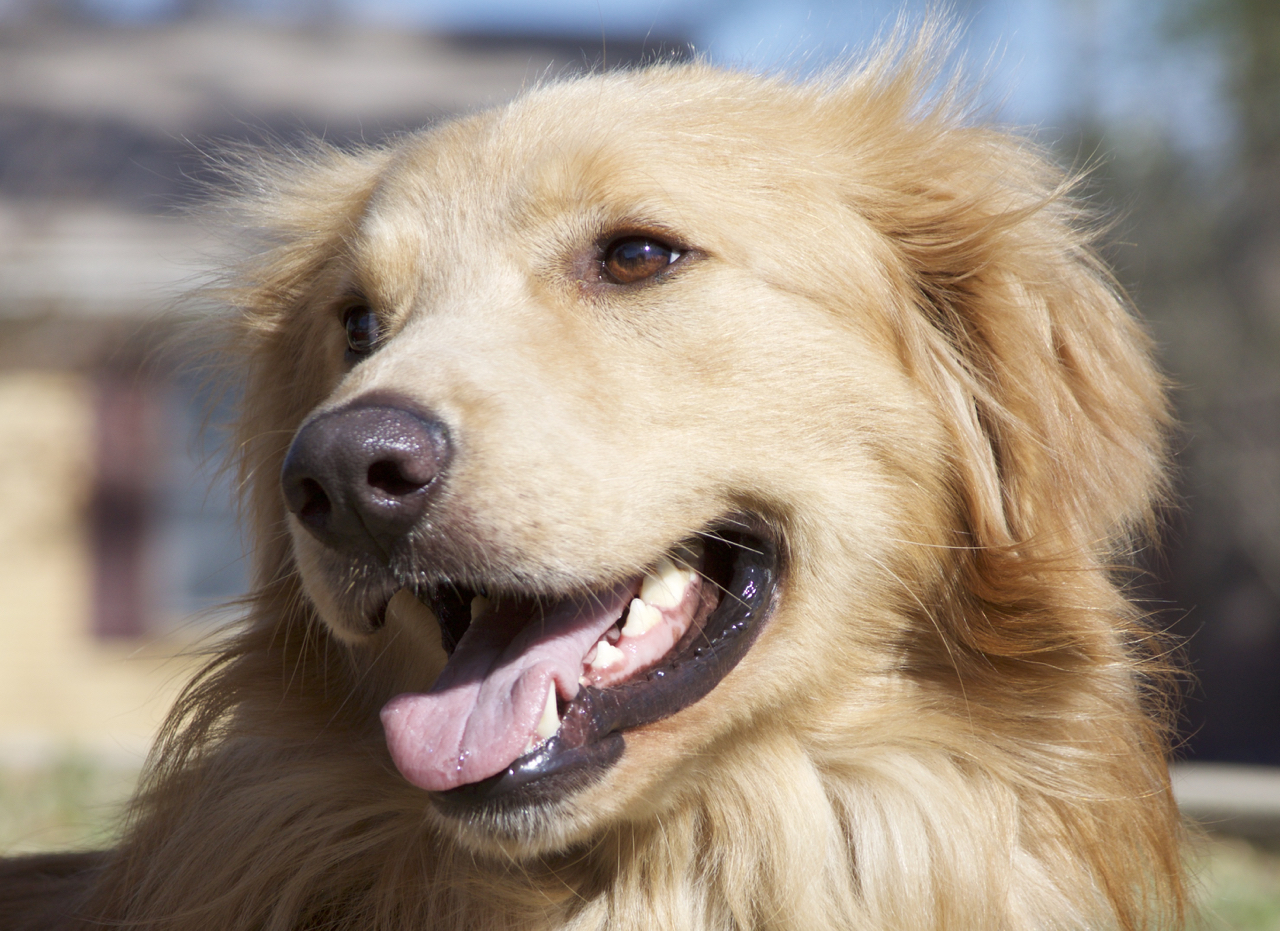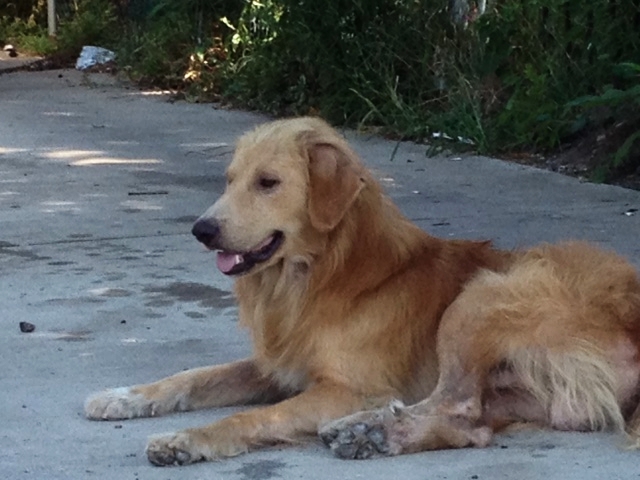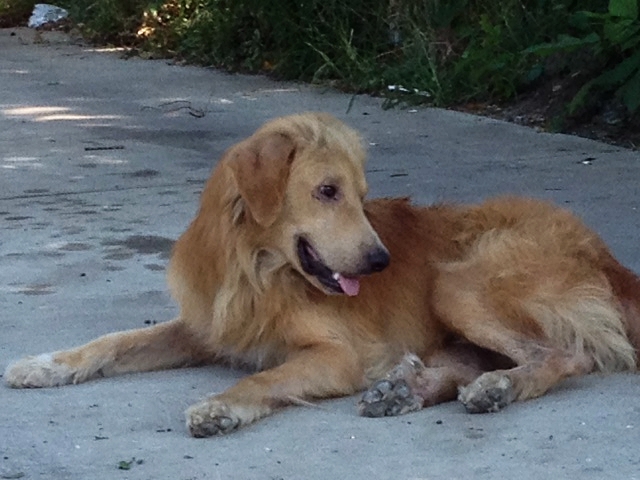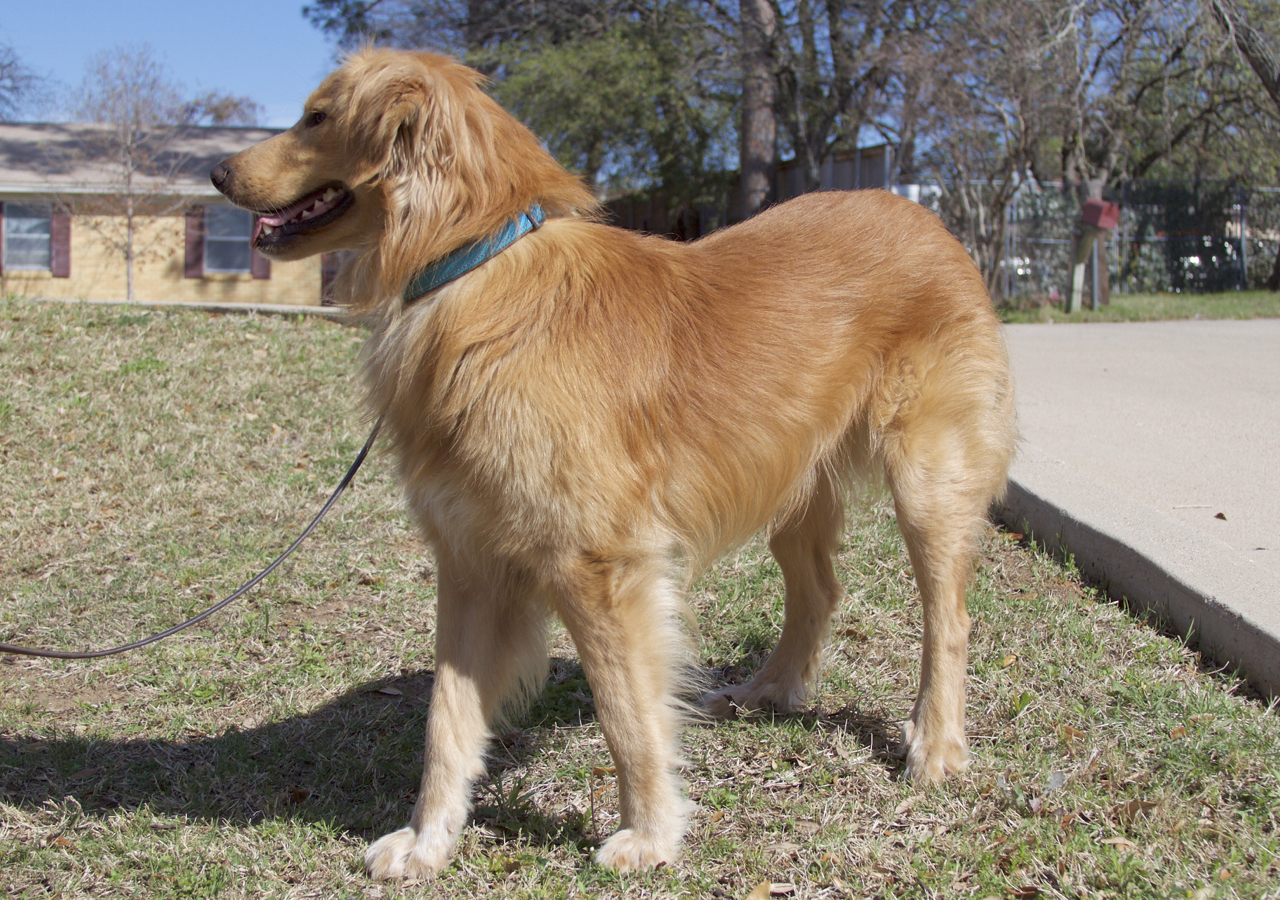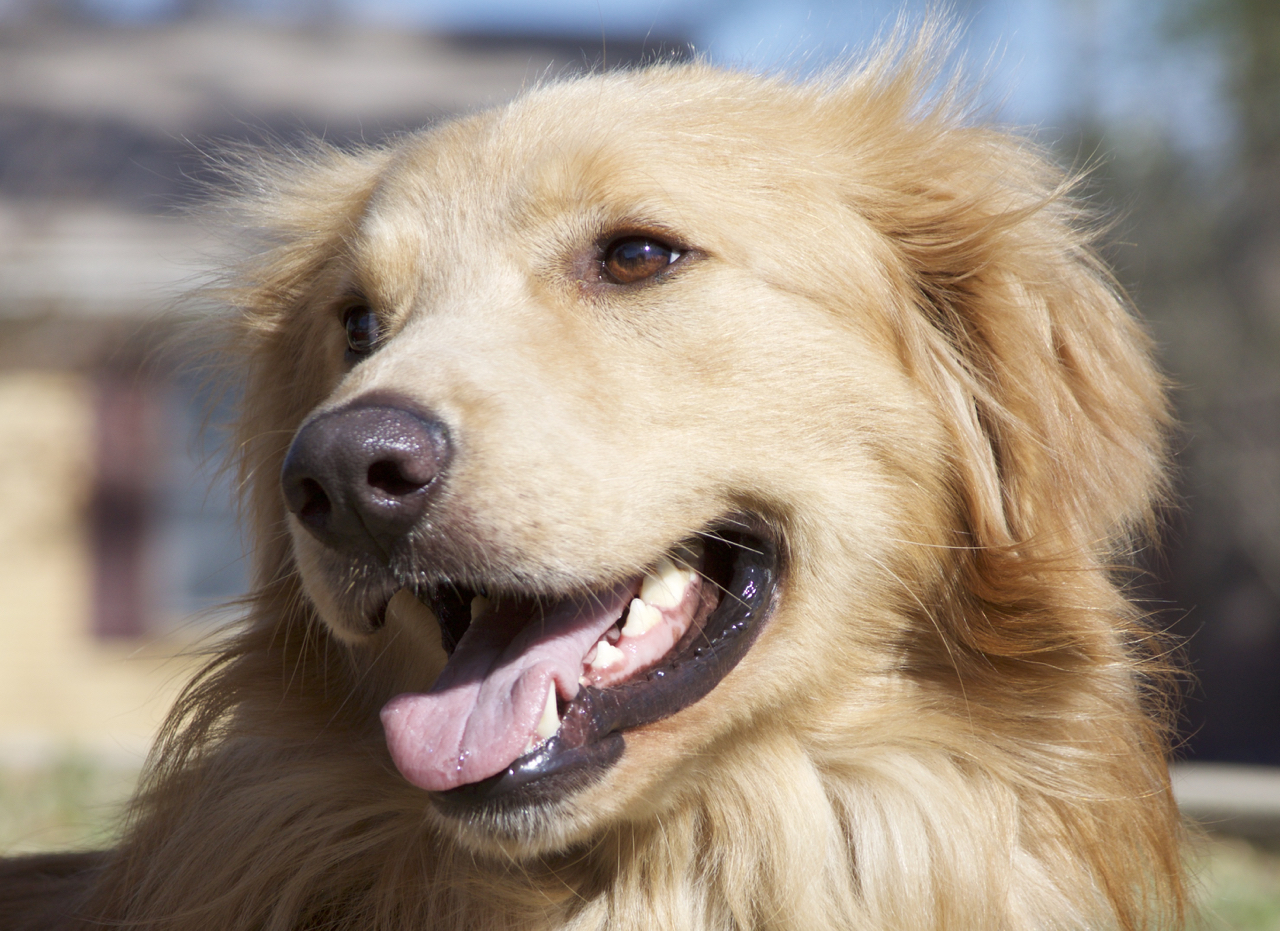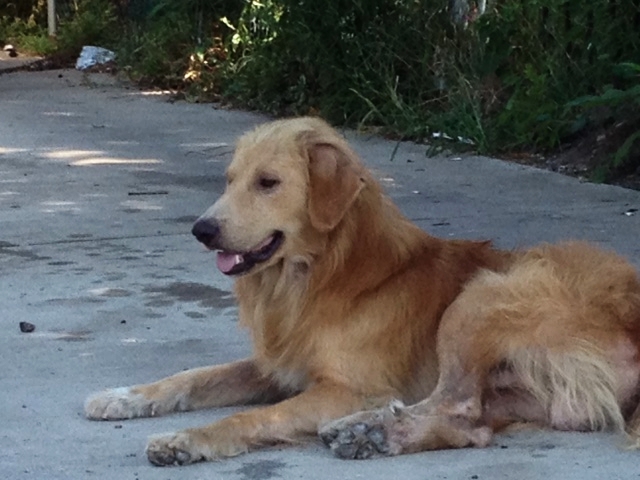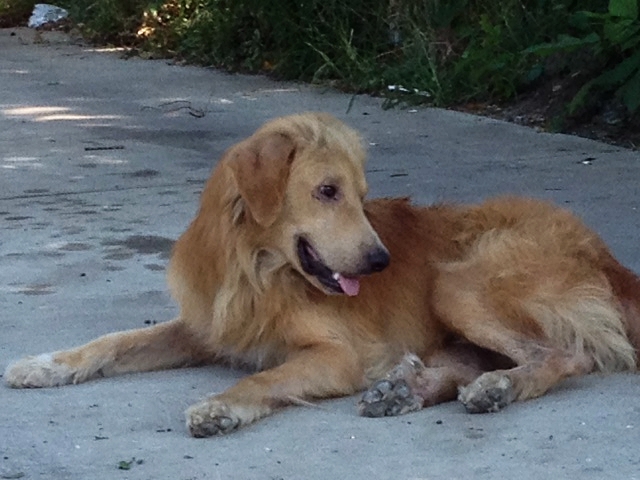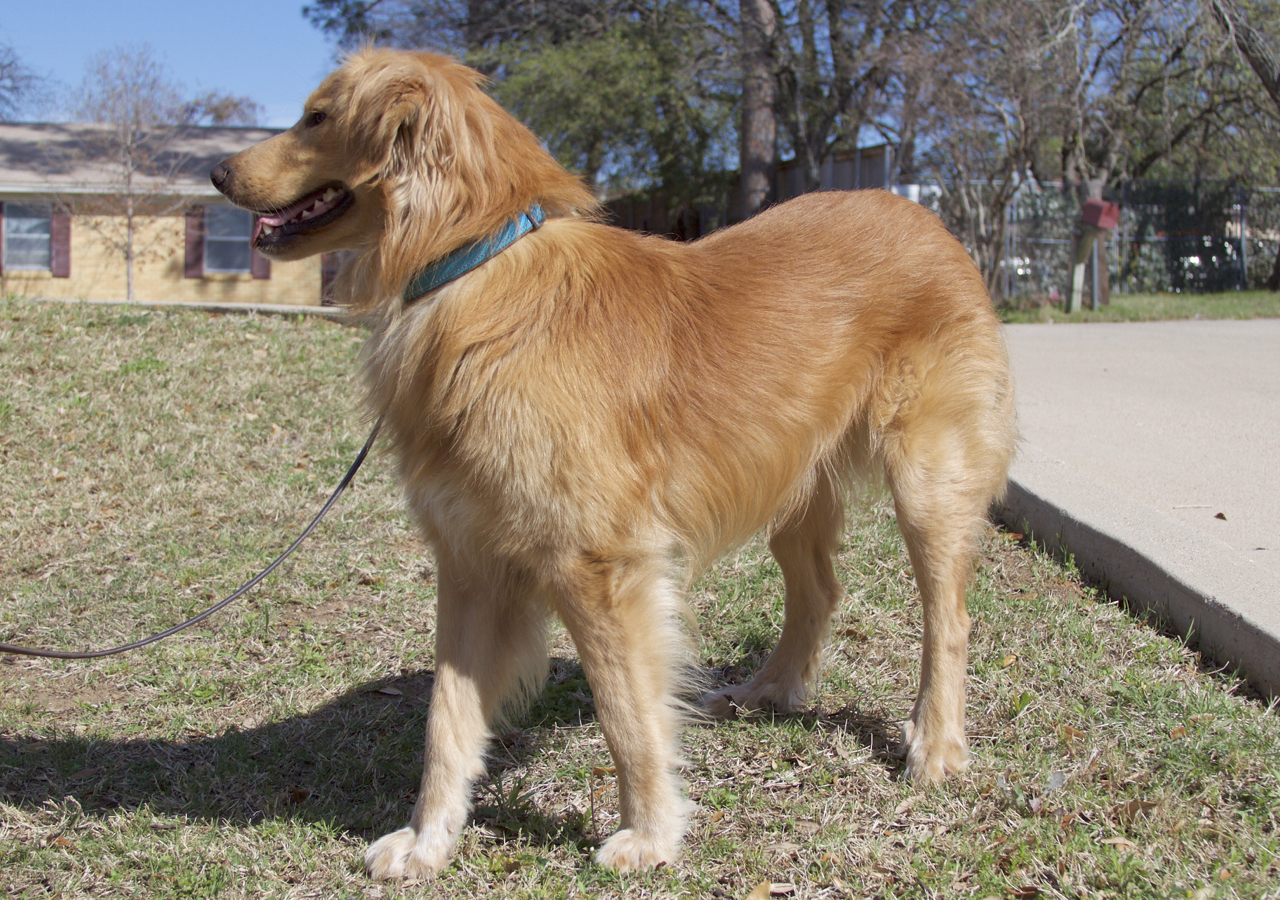 sold out
SPIKE - 16-149 | M | 2.5 YEARS
Breed: Golden Retriever mix
Gender: Male
Age: 2.5 Years
Weight: Average
Height: Average
Medical/Other Notes:
Needs to be neutered - Done
Heartworm positive - completed treatment
Click picture above for a much larger view.
Spike, now called Sam, was found as a stray. Some kind people in the neighborhood befriended him and helped GRRNT get him safely into our care. (See the bottom of the page to read Sam's very exciting story.)
PROFILE
Spike's trainer decided he needed a friendlier name, so he has been calling him Sam instead. He reports that Sam is really a great dog and he has a lot of fun working with him. Most of the issues he has are either because of his instinct (if it looks like a Great Pyr and acts like a Great Pyr. . .) and/or because of the trouble he has with his left eye. It looks outward rather than inward. When something is right in front of his nose he cannot see it. If you are trying to train with food, treats or toys it needs to be done on the good side otherwise he thinks you are teasing him and thinks, 'well forget about you, I'm not playing this'. He will need patience because of the eye issue. Sam was examined by an eye specialist, and they explained that his eye condition basically is that his eyes are not positioned normally, but this does not impact his overall vision. He is a barker, if left outside alone he will bark, loves to bark at night (like a Pyr-guarding). He loves massages and he loves running at 90 to nothing.
Sam crates with no problem with a treat and he is crate trained, however, he will try to chew through the crate if he needs a potty break. So if he is chewing on the crate door he needs to go out. He can be crated throughout the day. He is housebroken and has not had an accident in the house or in the crate. His recall is not that good so he will need to be on a leash or long lead always. He does stop at doors and waits, will not bolt through. He is hesitant with other dogs, but that generally comes from the other dog. With his eye issue he does not greet or present himself in normal (I'm a calm dog lets sniff each other) dog fashion, which sometimes gives the other dog a weird vibe. He would probably be happier as an only dog anyway. He loves to run, and will run through water puddles now whereas before he did not want to touch the water.
The ideal family for Sam would be one with no young kids, he will be better with teens and up. He can sometimes be a little rough when taking treats because he can't see well, but he does not bite down, you may however, end up with a hand covered in slobber. He can sit, come and crate for a treat. He walks well on a leash, and travels ok but he will need help loading in a vehicle. His judgment of distance and depth perception is not the best. Sam would do best with a family that is dog savvy, and has owned a dog before. Someone with previous Pyr experience is a bonus.
UPDATES
12/19/2016
Spike has come a long way baby! His trainer reports great things from this fine boy, and he is ready to start searching for his forever home.
10/21/2016
Look who is turning out to be quite the handsome guy...SPIKE! If you will recall, this is the rag-tag street dog we chased all over a north Frisco neighborhood for over three weeks this summer. With the help of Duck Team 6, he was finally caught. Now with some healing and hard work by his foster mom and one of our special case trainers to address his trust issues, he is growing into his best self!
10/1/2016
Spike is doing well, and has started to bond with the trainer he is staying with, and is showing affection toward him. This is a huge step forward for Spike since he was previously very fearful of men. He goes into his crate on command from a distance, walks nicely on a leash, stops at gates and doors, etc. He is still a flight risk, since he looks for a way out of whatever enclosure he's in and continues fence patrolling and gate testing. His trainer believes his behavior is strongly Pyrenees, and that will need to be taken in consideration by his adopters in the future.
Spike will need to undergo heartworm treatment in early October, with a second treatment in November. He is settled in nicely with his trainer, and they plan to keep him throughout his treatment so he is comfortable and in a familiar place.
 
9/6/2016
Spike has made great strides since he was finally caught after three weeks of being on the lam! He was microchipped and neutered recently and is recovering nicely. Here is a shot of him taking a short walk with foster mom -- who is not taking any chances with two collars, two leashes and a harness! His coat is filling in nicely and he is learning that humans aren't so bad after all since they mean regular meals, a soft bed and lots of lovin'!
8/8/2016
Spike is safe and secure in his temporary housing. We have volunteers visiting with him daily to earn his trust.
8/5/2016
Spike has been caught!
7/22/2016
Spike continues to be spotted in the neighborhood near the vet clinic. We are tracking his movement and have the assistance of Duck Team 6 to help us catch him.
7/19/2016
In early July 2016 GRRNT was contacted about helping a stray Golden that had been wandering a neighborhood in Dallas for quite awhile. He was skittish and fearful of most people, but a young girl and her mom had been able to befriend him. They managed to contain him and GRRNT was there to pick him up and get him to safety. Unfortunately, when he arrived at the vet Spike slipped his leash and bolted from the vet, near Eldorado and Custer in Frisco. The subdivision also had a very nice greenbelt winding around it, and Spike was found places to hide, and shade to stay cool. For several weeks he evaded capture, and multiple people living in the area continued to send us reports of sightings. With some help from dedicated watchers, and Duck Team 6, Spike was finally caught again.
Spike is very fearful of people, and he especially does not like leashes. We don't know what his history is, but he will need quite some time in a safe, secure, environment, with people working with him to teach him he can trust us. We will provide updates on his progress, so please check back for more news.