WINIFRED-16-163 | F | 2 YEARS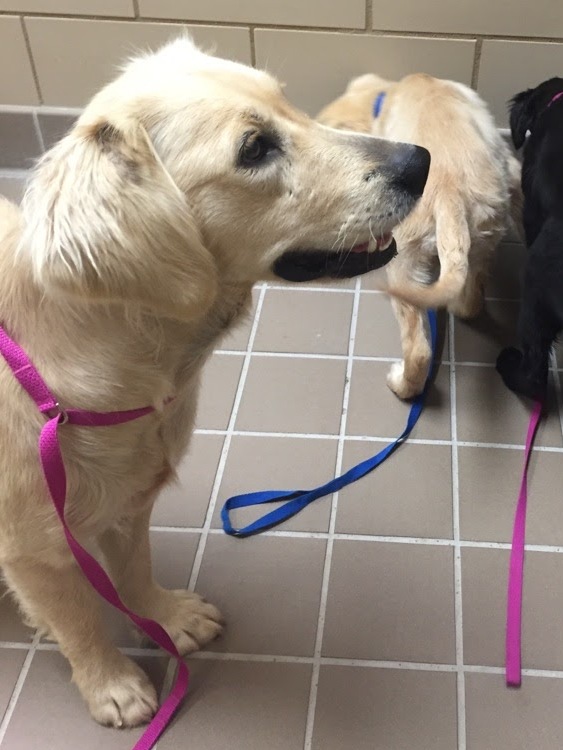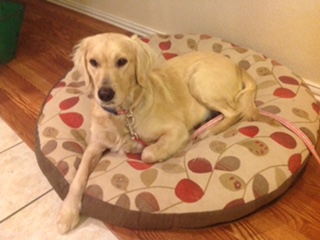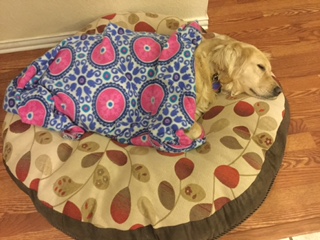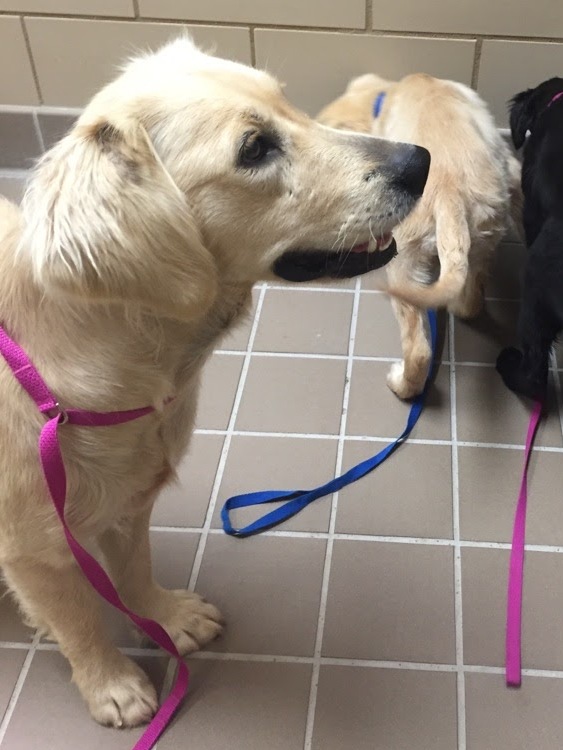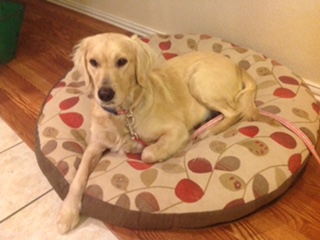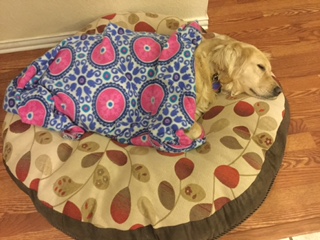 sold out
WINIFRED-16-163 | F | 2 YEARS
Breed: Golden Retriever
Gender: Female
Age: 2 years
Weight: 70 lbs
Height: Average
Medical/Other Notes:
Broken front leg, requires surgery - done 12/14/16
Needs to be spayed - done 12/14/16
Click picture above for a much larger view.
Winifred and her puppies were picked up as strays by local animal control. She was limping on intake to GRRNT, and xrays showed a break in her front leg that will require surgery to repair. We will provide updates when we know more about Winifred.
PROFILE
Wini's broken left leg has finally healed. She does have a metal plate and screws in her leg that will stay for her lifetime. She limps slightly, at times, and guards it slightly at times, also. She no longer sleeps in her kennel, "she has had enough of that kennel", and has the run of the house. The vet required very significant kennel time and only leashed backyard walking while she was healing. Since she wasn't allowed to be taken for walks, she does not know how to walk nicely on a leash yet. Unfortunately her foster dad had back surgery right after her medical release and has not been able to work on training with her.
She is making up for almost 4 months of restricted activity and is very interested in play. She loves to play, although she is out of shape and gets tired kind of quickly at high intensity play levels. Stuffed toys, socks, slippers, dog blankets, and dog bones are all great. She will watch TV if dogs bark. Wini is very interested in rabbits and squirrels, and even caught a baby rabbit in the backyard. (The baby was rescued and sent to rehab).
Wini has never gotten on furniture but will get on your lap…all 70 pounds of her right now. With all her confinement she has gained about 9 pounds since her rescue. Initially the vet wanted her to gain a few pounds since she was underweight, but he would like her to lose a few and stabilize at about 65 pounds.
She is very smart, and catches on quickly. The she lies down when eating and does not have to defy gravity when swallowing! She has her favorite sleeping spots and does not sleep in the bedroom. When she needs to go out she will paw you and bug you until she has your attention.
Wini needs activity and wants activity. She is probably too excitable for small children. She is "mouthy" and will put her mouth on your arm when playing, adopters will need to be aware of that habit and teach her other ways to use her mouth. She would do best with a family where someone is home most of the day. Because of her injury she has had limited experience riding in the car, and has needed a second person when going to the vet. She moves around in the car, so she will need some practice going on car rides and needs to be taught to settle down in the car. Each visit to the vet was like old home week and she was happy to see all the staff...they loved her. On her last visit she tried to jump up on the x-ray table!
Wini is a very sweet dog, and she is ready to find her forever home. She is one of a kind, and will make wonderful, happy, playful companion for some lucky family.
UPDATE
3/21/2017
Winifred had another set of xrays taken of her leg today, and her break has finally healed. That's almost exactly 3 months since her surgery. The vet released her to begin to return to normal activity now, so she played outside when she got home, and she was tired and did limp a little after playing. Three months of restricted activity would make anyone a little sore when you go back to running around normally! Wini will need a little time, and normal activity and exercise, to begin to rebuild muscle tone and stamina.
She has gained about 10 pounds in the last three months. The vet wanted her to have extra food since she was undernourished originally, but now she needs to lose 5 pounds. She needs leash training as well since she gets excited in new places and meeting new people. Her foster family will also take some time to get to know her better now that she can be a normal dog. We will update in a week or so with more information about the new and improved Winifred!
2/9/2017
Wini saw the vet today and he wants her to have 30 more days of complete rest. The bone has healed a little more on one side than the other. She still has a ton of energy and wants to use it!! She doesn't know there is anything wrong with her! Wini's next X-ray will be in 4 weeks.
2/2/2017
Wini will go back to the vet around 2/9/2017 to have her leg xrayed to check the progress of her recovery. She is still on full activity restrictions, and she will not be ready for adoption until the vet releases her from their care.
1/14/2017
Wini had her one month checkup this week and her broken leg is doing well. Happy days are here as she just got released from the cone....so far so good! She is not allowed to go for walks and cannot rough house with her canine foster sibling yet....she really wants to do so!! She is scheduled for her next X-Ray in 4 weeks. She is leashed when in the backyard and wears it in the house even though she is on her own more and more. She still needs supervision as she still has a lot of puppy in her. Wini loves food, and has just discovered the joy of peanut-butter!
1/8/2017
Wini has been through a lot, stray with her puppies, crate time, no exercise, and now in a new foster home. She is about 3 weeks post surgery for here broken right front leg. A metal plate was used to secure the break which is about two inches above her ankle. Per her doctor she has to wear a cone and rest in her crate. Wini went to her foster home about a week after surgery, and she is not acting as if she just had an operation. She PULLED on the leash going to the car..... at the time she was on a tranquilizer....tranquilizer strength has been increased twice since then...and has helped calm her a lot. Her one week checkup was good!
Everything in the house seems to be new to her, but surprisingly she is house trained. She goes in the backyard leashed and is leashed in the house for her safety. She cannot go for walks yet and it will be another 3 weeks or so before she is fully healed. She is very gentle, cannot eat enough, and loves petting and brushing. She has a lot to learn as she is just a big puppy.
12/14/2016
Winifred had surgery today to put a plate in her leg to stabilize the break. She will need 6-8 weeks of restricted activity to allow her leg to heal. She will not be attending any meet n greets until sometime in February.