POPPY - 18-051 | F | DOB 5/22/2018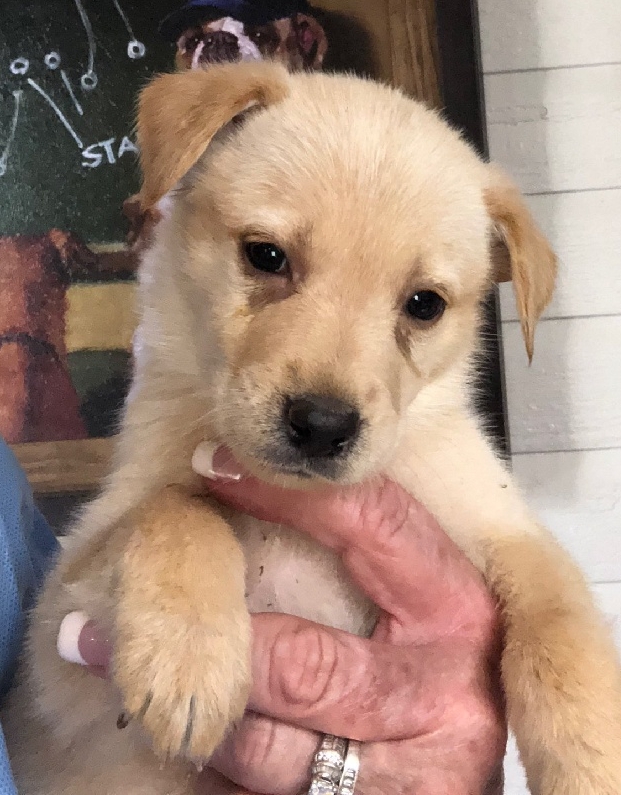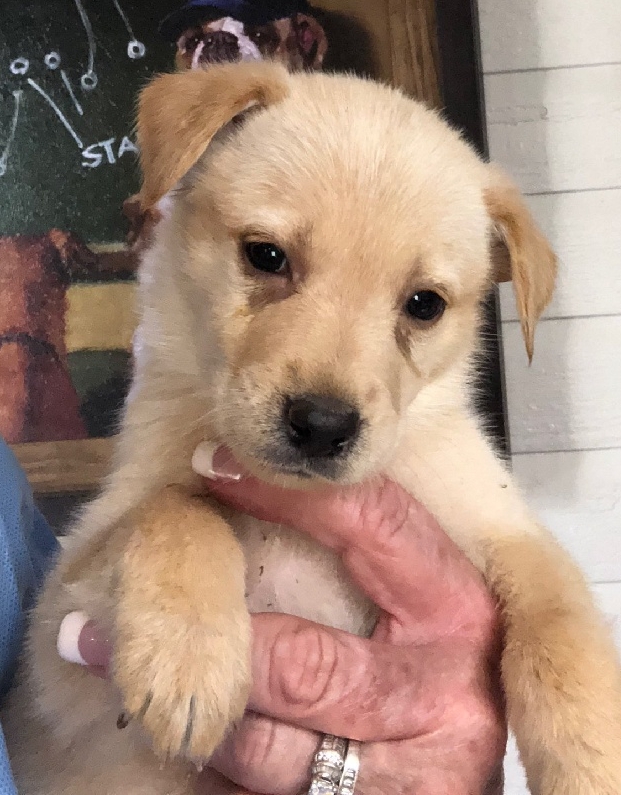 sold out
POPPY - 18-051 | F | DOB 5/22/2018
Breed: Golden Retriever
Gender: Female
Age: Date of Birth 5/22/2018
Medical/Other Notes:
Needs puppy vaccinations - done

Needs to be spayed
Click picture above for a much larger view.
Poppy is ready for adoption now! Poppy says I'm such a good girl, potty trained, learned the sit command, and gives the best snuggles but still looking for my furever family. I'm waiting to meet you!
PROFILE
Poppy is the most expressive of the three sisters we foster. She will flop her ears forward and tilt her head trying to understand what the humans are saying. You can just see the wheels in her mind turning. She loves getting attention from people and will come up to you and want to be in your lap. She has been picking up that her name is Poppy and when you call her name she will turn, tilt her head and look at you. She's even learning to "come" when you tell her. We think she will pick up on training and commands very quickly. In addition to being very loving, she can be quite playful and feisty while wrestling with her sisters. Poppy is such a sweetheart and loves to give you little kisses!
Poppy loves playing with toys and chasing her sisters and the "bigger" dogs. She loves running and playing in the yard and finding leaves and sticks. She has discovered the love of a tennis ball and will need chew toys and bones for those growing puppy teeth. She also loves soft toys and has done well not destroying them. She has also been doing very well on her house training and is starting to let you know when she needs to go outside by ringing the bell her foster parents have hanging from the door. She has done great sleeping in a crate at night and will sleep all through the night and not get up until the sun starts to light up the room. She starting to learn her name is learning to come when you call her but if you "crinkle" a puppy treat bag, she will come running as fast as she can! As far as commands go, she has been learning to sit when getting a treat, learning what the word no means and has pretty much learned that the word potty means go outside. She is growing like a weed and learning so much every day!
Poppy is a great puppy! Just look at those ears of hers they are just as cute as her personality. She'd make a wonderful addition to any home with or with out other pets and kids. She gets along with everyone. She has learned how to use the dog door and has the potty training down very well. All Poppy needs is some love, and lots of toys. She's happy with any toy and will leave people things alone if she has her toys. She has learned to jump on the couch, and sleeps in the bed with her people. She much prefers it over being crated so she'll need a family who will allow her cuddle time. She's not a fan of the crate, and will cry and cry in it. She's a go with the flow puppy she feeds off the vibe of the house, if it's rest time she's more then happy to take a nap, or if people are up and about she's ready to play, but has soon as you sit that's her cue to jump up for cuddles and naps.