BUTTER- 19-050 | M | 1 YEAR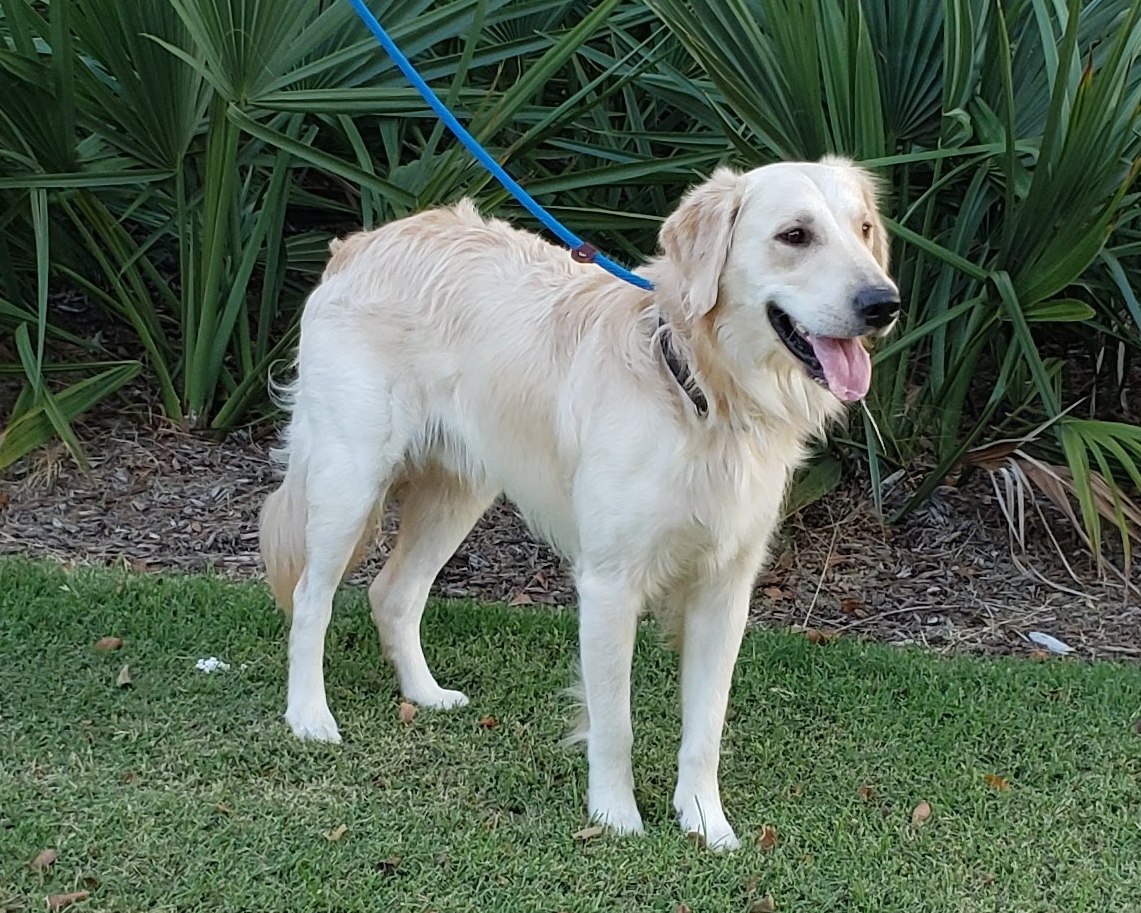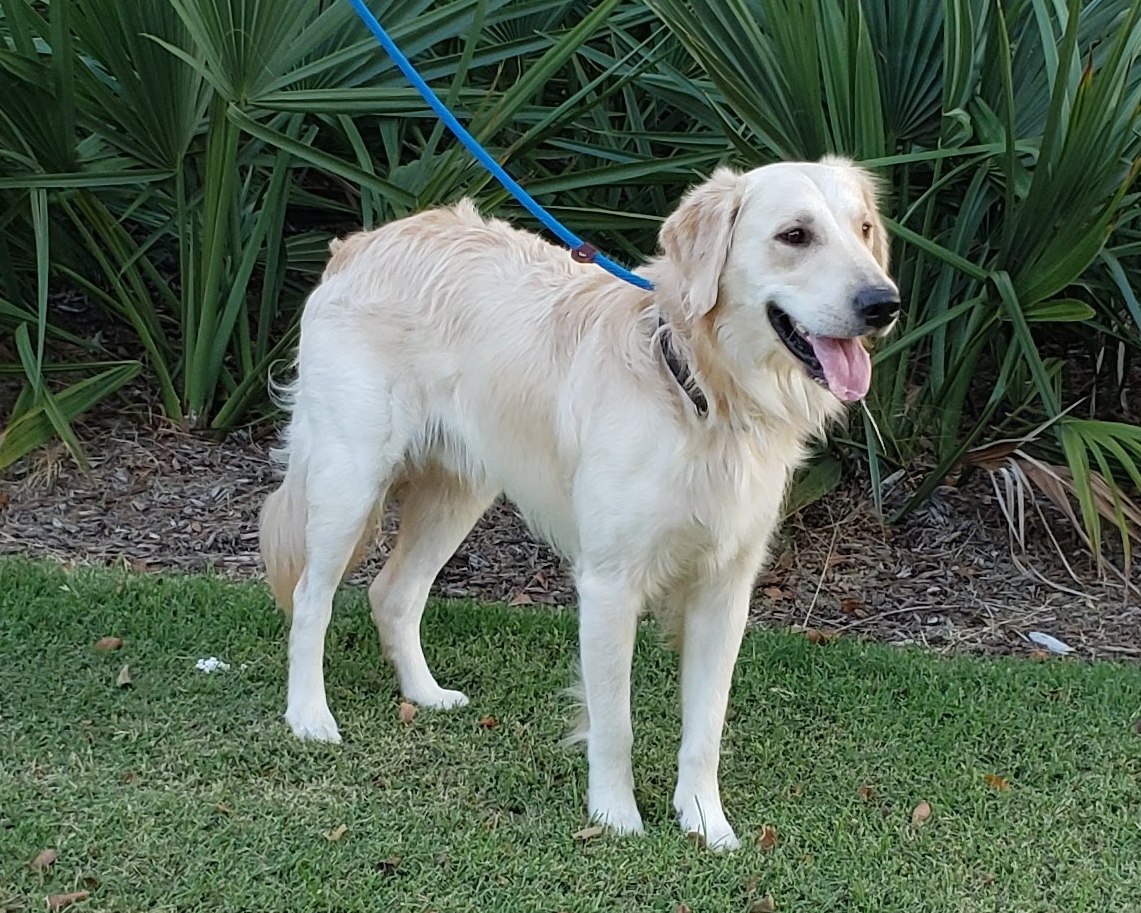 BUTTER- 19-050 | M | 1 YEAR
Breed: Golden Retriever
Gender: Male
Age: 1 Year
Medical/Other Notes:
Needs to be neutered - done
Adoption Fee: $375
Click picture above for a much larger view.
Butter is an owner surrender to GRRNT. He is settling into his foster home, and we will know all about him soon.
PROFILE
Butter is looking for his forever family and he is SO excited to meet you! This guy is the sweetest golden puppy you'll ever meet and is everything you love about golden retrievers. Butter has never met a stranger, and gets so excited with new people. He'll sprint all the way up to you, but stop right at your feet to show you his good "sit." Butter's foster family asked him what makes him the perfect golden retriever and here's what he had to say:
"What makes ME the perfect golden? Get your scorecards ready folks, because I'm about to take gold.
1. First things first, let's talk about the hugs. I know what you're thinking, "isn't that just a polite way of saying he's a jumper?" And I'm here to tell you it's a totally different thing! When I haven't seen my foster parents for a while or when I'm simply having a really great day, I just gotta give someone a hug! I gently get on my back legs and link arms with my human. We exchange face kisses and let's be real, who doesn't love a good ole fashioned golden boi hug.
2. Next up is my sleeping habits. I just LOVE sleeping on my back. Legs sprawled out. Taking up half of your king-sized bed. I'm also quite the contortionist though. I can squeeze myself into the tiniest spot on the bed or couch and will gladly kur-plunk all 60 pounds of myself on top of you to snuggle. I prefer to be the little spoon, but I'm willing to negotiate if the price is right. (I'd like to point out that I will get "off" if asked, but come on, who wouldn't want to snuggle with this?)
3. I'm very playful and love wrestling with my golden foster sister. A four-legged playful companion is a must to get all my energies out! Humans are for snugglin', not wrestlin'. My golden sister and I wrestle all morning, then we're pooped and need a morning nap. If we're napping together, I'll snuggle up with her on the bed and soothingly lick her ears and face until she falls asleep. Not to pick favorites, but my foster mom has noticed I don't do this to the resident chocolate labs…
4. Believe it or not, I was actually very timid when I first arrived at my foster home. I wasn't used to other dogs, or strange noises, or those spooky things called baby gates. But that's all behind me now! I've really warmed up and my personality has completely come out and not surprisingly, I am your typical goofy, floppy, fluffy, golden boy. There's a small chance I act a little shy/timid when you first take me home, but just be patient, I'll warm up in no time.
5. Even though I'm just a pup (10 months old to be exact,) I'm not mouthy at all! My size and energy may be a little much for smaller kids, but I don't play bite and don't jump, so I think I'm the perfect golden for humans of all shapes and sizes.
6. My leash skills are enough to put my foster siblings to shame. I don't pull at all and I'm very aware of any direction my foster mom gives me. Not to mention I have this beautiful "prance" when I walk. You know, the kind where the wind catches your hair just right and the sun highlights your golen hues perfectly? It's truly a sight to see.
7. I'm house-trained (aside from the few marking incidents I had prior to getting neutered) and crate-trained, although I will bark in my crate if I suspect you're in the other room having fun without me…I'm onto you.
8. I'm great in the car! I prefer the back-right captain's chair. You know, if I HAD to choose…
9. And last but not least, I get along great with ALL people and ALL dogs. From the sassy and bossy, to hyper and yappy, the not-so-smart, to the oh-so-sleepy. I'm very versatile and would make the perfect addition to any family."
As you can see, Butter really is the sweetest pup who deserves the absolute best family. Because he initially was pretty timid, we have been very careful to use only positive reinforcement techniques for encouraging good behavior, and curbing unwanted behavior. His crate is never a "time-out" or punishment, and if he gets into something he shouldn't, we simply walk up to him, trade it for one of his own toys, and praise him when he willingly accepts. I would hate for his timid nature and unsure/confusing past to deter his progress, so we really need his forever family to be gentle and positive with his ongoing training.
While he has been fine outside of the crate most of the time, we recommend crating him when he is unsupervised since he's still trying to figure out what are appropriate items for chewing and entertaining himself. He might get creative with his choices if left home alone not crated. Since Butter is high-energy, we feel it's in his best interest to be in his crate no longer than 4-5 hours at a time. This happy boy is ready to become some lucky family's best friend.
UPDATE
Butter has been neutered and is ready for adoption.