COWBOY-15-170 | M | 1 YEAR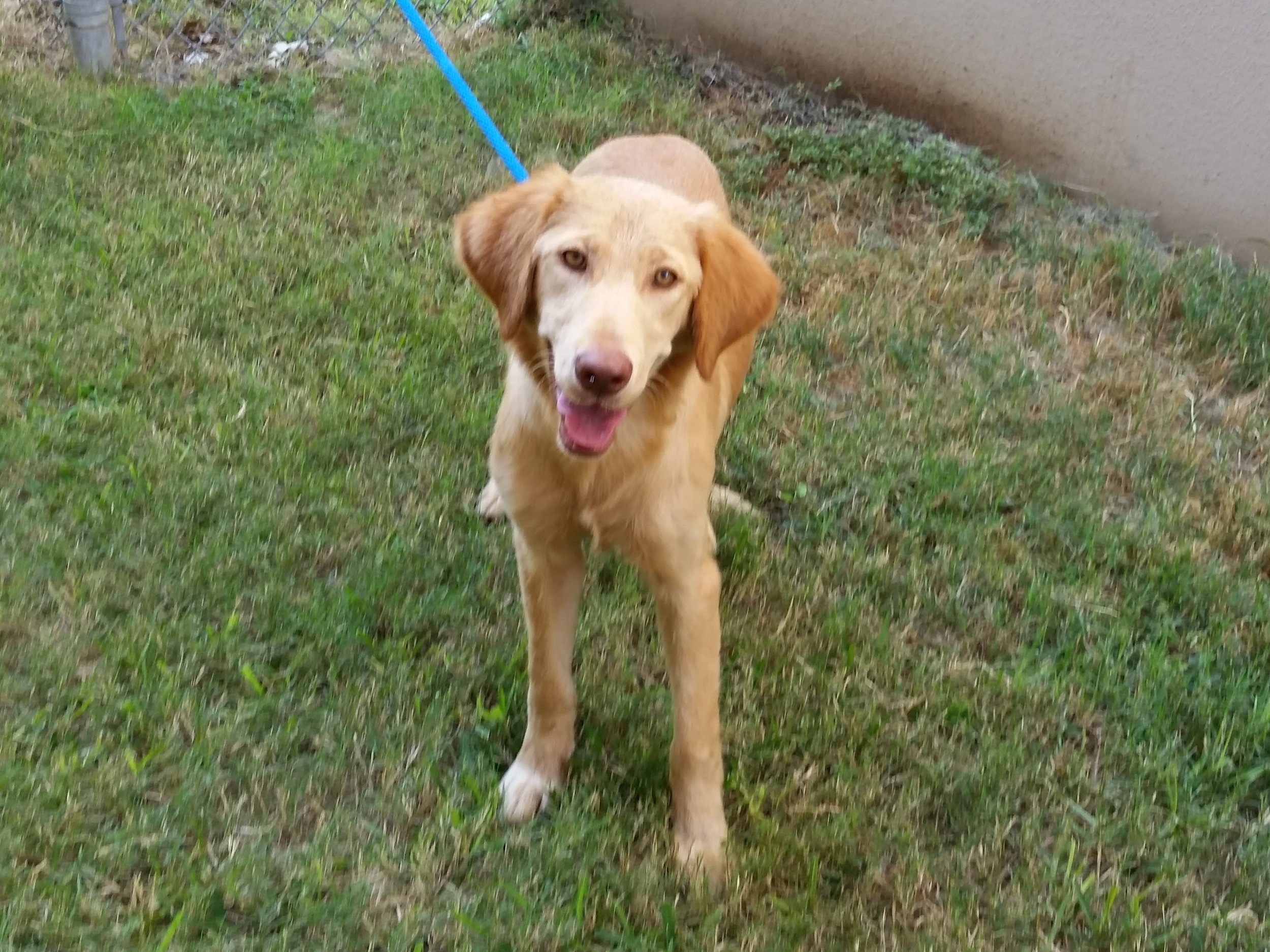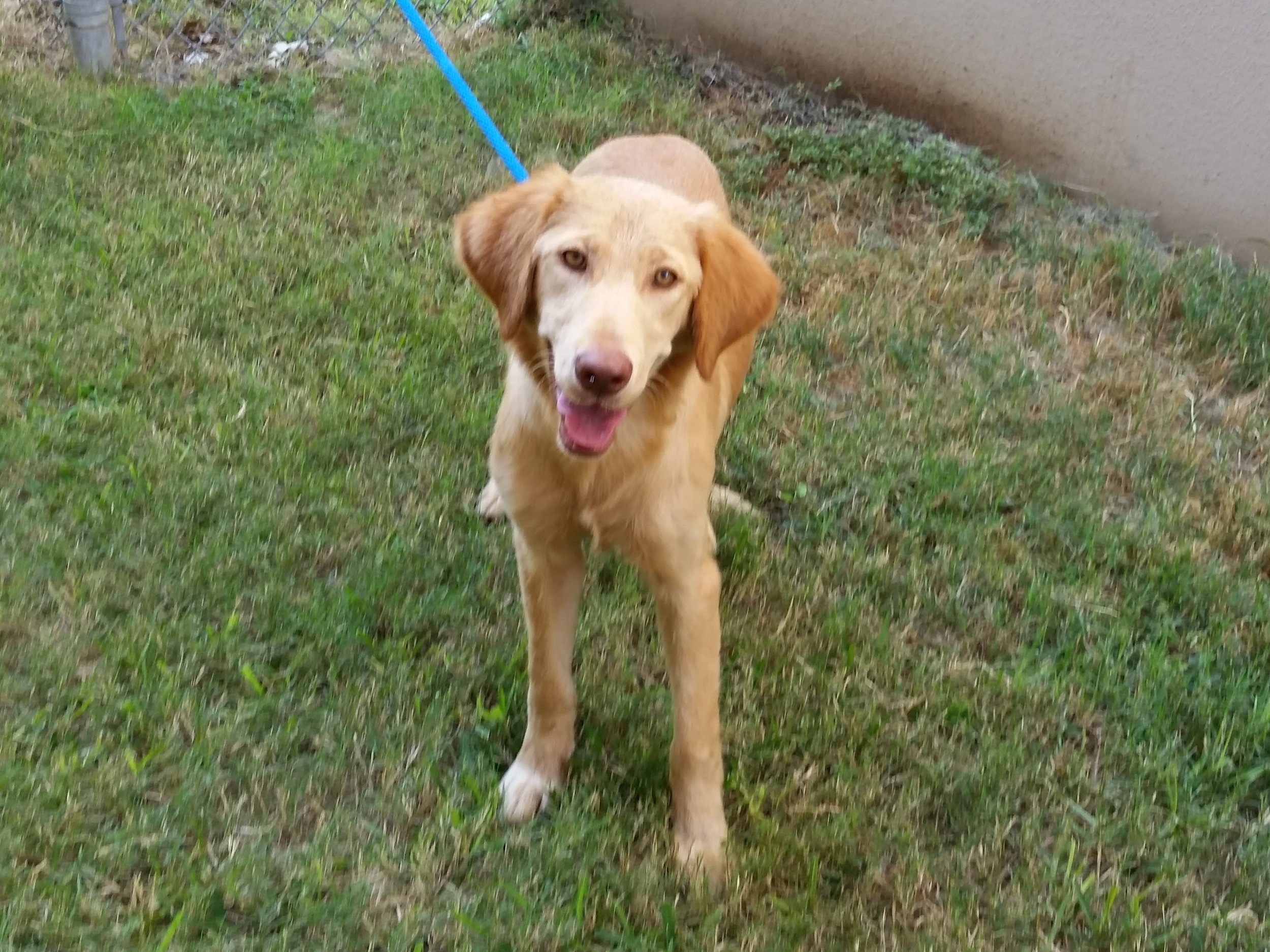 sold out
COWBOY-15-170 | M | 1 YEAR
Breed: Golden Retriever mix
Gender: Male
Age: 1 Year
Weight: Average
Height: Average
Medical/Other Notes: None
Click picture above for a much larger view.
UPDATES
9/8/2016
Cowboy had a great opportunity to go spend the last month with the trainer to work on his confidence. The trainer had this to say about Cowboy's progress:
"Cowboy has very successfully completed a month-long professional behavioral and obedience training course. He is now well-socialized with both people (including kids) and dogs. He is very agile and active and extremely smart. Because of his intelligence and engaging personality, his forever family should be active and willing to include Cowboy in their activities as much as possible. He will also benefit from a family willing to maintain his training and discipline – his trainer will even give the adoptive family a free lesson! Cowboy would do well in a home that has another confident, well-behaved dog, as he tends to follow the lead of whatever dog he's with.
Cowboy is a very affectionate dog, but his current confidence comes from structure and a strong, steady human - he's a dog who benefits more from active work and play than being "babied". If you're looking for a young, very well-behaved playmate, and are willing to maintain his discipline and training, Cowboy is the perfect dog for you!"
5/12/2016
Cowboy has been living in a foster home with 2 Golden Retrievers, and foster parents that are around the home most of the day. He seems to thrive in this type home.
GRRNT has been using the services of a behaviorist to help Cowboy feel safe, and to teach his foster parents how to help him achieve this. His foster mom has learned that Cowboy actually likes his time in his crate. If Cowboy begins to feel overwhelmed he will begin to bark. That's a sign that he is anxious and needs a little crate time.
Cowboy is a very sweet and loving dog. His pale green eyes will seek out yours, with a questioning look. He adores being part of an active family. Whatever part of the house the family is in, Cowboy wants to be there. He is something of a clown! When he is happy, he hops up and down on his back paws, like on a pogo stick! When he is taken to the back yard, he runs and leaps off of the deck flying through the air. Birds and how they are able to fly away confounds Cowboy, often sitting by the tree turning his beautiful head sideways, bouncing on his back paws.
Cowboy will require a special home. He needs someone with the dedication to spend the time with him as he adjusts to his new surroundings. If you have patience and love to spare, and are willing to work with the trainer to help Cowboy conquer his fears, consider adopting this sweet boy.
12/2015
Cowboy will need a very special home, since he is a sensitive, and at times, fearful puppy. We won't be bringing him to the adoption meet & greets since the number of people could overwhelm him. If you are interested in Cowboy, please contact our adoption coordinator at adopt@goldenretrievers.org
Cowboy spent several weeks in a potential adoption home. Unfortunately, he has some fear issues and was not able to adjust to living with the husband in the home. There was no fault on the part of the adopters, they tried working with trainers and anti-anxiety aids to help him cope, but they were not successful. Cowboy will spend some time with one of our foster homes that has had dealt with dogs that appear to have been mistreated in their past. We will give him the time he needs to adjust and learn that men can be as loving and kind as woman. Ultimately he may be most comfortable in a home with primarily ladies as his family, and will need a canine companion to live with also.
3/19/2016
Cowboy is still having some trouble adjusting to new people and new experiences. We are going to consult with our trainer to get some advise for helping Cowboy gain confidence. We will work with Cowboy for the next several weeks. Please check back for updates on his progress.
10/12/2015
Cowboy had a fun day at a neighborhood pool party and allowed us to get to know a little more about him. He interacted confidently with the large group of people, played well with another dog in attendance, took several dips in the pool and showed us he knew how to swim, and was very curious but respectful toward the resident cat.
PROFILE
Cowboy is a 1-year-old male Golden Retriever who is a very sweet and charming boy. He arrived at his foster home quite timid and skittish, but has very quickly bonded with his foster parents and is beginning to come out of his shell. He loves to go for walks and meet everyone in the neighborhood as well as their dogs. He actively initiates play with dogs, which is when he shows his most playful side. It is unknown how he reacts to cats although he is a gentle guy so would probably be fine. He already met the neighborhood pig and did quite well with her!
Cowboy is house trained and does not counter surf or get up on the furniture. He never jumps up on people. He is definitely a Velcro dog and follows his foster parents wherever they go in the house. He loves his crate and is quite content to stay in it as long as you are in the room. He is much less happy in it when you leave the house. His foster parents have started keeping him in the laundry room when they have to leave and that seems to be working out a bit better.
Cowboy would make a wonderful addition to a family with another confident dog, and a perfect situation would be one where someone is home most of the day, at least until he feels secure in his new environment. He loves other dogs, so a home with another dog will be a must for him, and might help when his parents have to leave the house. He loves children, although sometimes quick, unpredictable movements frighten him, so it is probably better for him to have a quieter home with older teens or adults (and he needs a female caretaker in the mix).