DAISY - 16-022 | F | 6 YRS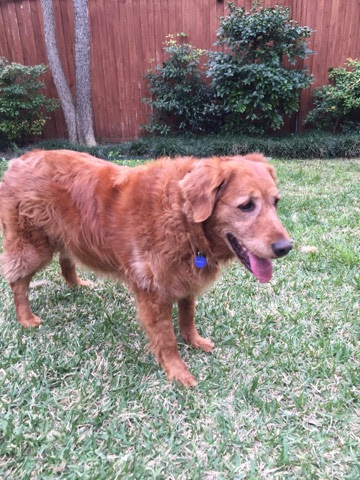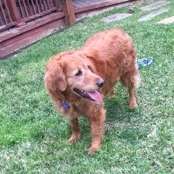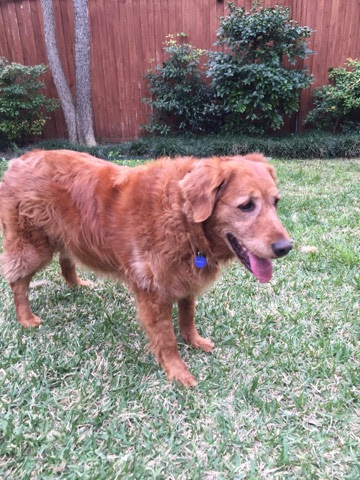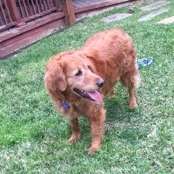 sold out
DAISY - 16-022 | F | 6 YRS
Breed: Golden Retriever
Gender: Female
Age: 6 years
Weight: 80 lbs.
Height: Average
Medical/Other Notes:
Click picture above for a much larger view.
Daisy is a 6 year old female owner surrendered to GRRNT due to a change in circumstances. She is just settling into her foster home and we will have more information about her soon.
PROFILE
Daisy is a beautiful 6-year-old red Golden Retriever who loves being around her humans and will let them know by giving them kisses or cuddling with them as much as possible. A true Golden through and through!
Daisy was surrendered by her owners due to a change in their circumstances. She is house trained and crate trained, although she would prefer to sleep on a dog bed next to her humans. Her foster dad has taught her to sit, shake paws, and to wait calmly while all leashes are attached before she follows him out the door for their twice daily pack walks with her canine siblings. She is also learning to walk off-leash next to her foster dad's side.
Even though she loves to be petted and hang out with her humans, Daisy also loves a good game of fetch in the backyard. She is looking for a home with humans who can give her plenty of attention, and love day and night. It would be perfect if her new home had another happy-go-lucky canine to be her best pal.
Daisy will be a wonderful addition to any family looking for that sweet Golden spirit to welcome into their home.