DEXTER-16-005 | M | 3 YEARS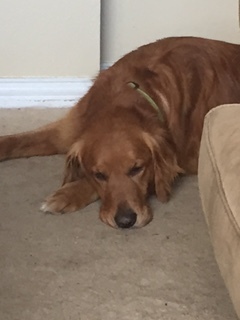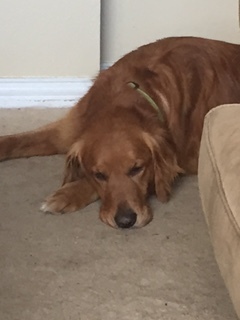 sold out
DEXTER-16-005 | M | 3 YEARS
Breed: Golden Retriever
Gender: Male
Age: 3 Years
Date of Birth: 2011
Color: Gold
Weight: Average
Height: Average
Medical/Other Notes:
Needs to be nuetered - done 2/4/16
Heartworm positive
Click picture above for a much larger view.
Dexter was found as a stray and efforts to find his owners were unsuccessful. Dexter needs to be neutered, and he also has heartworms, and will have to be treated before he will be available for adoption. He is settling into his foster home and we will know more about him soon.
PROFILE
Dexter is a wonderful, cuddly, vocal, mellow doggie. He gets along great with other dogs, and is very curious about the family cats. He seems to want to play with them, but he will not hurt them. He just likes to stalk them a bit, so if you have a cat that doesn't appreciate being tailed by the dog, he may not be the right dog for them. We think he would do best in a home with another dog, as he can get anxious when he's completely alone. He would be really happy to have someone home with him, or be able to go work with you.
Dexter's foster mom works at a nursing home and has taken him to work with her several times. He does great around the elderly and children. He is very, very gentle and will not jump or knock anyone over. He is good on the leash and only pulls just a tiny bit, but is easily corrected. All Dexter wants is to put his head in your hand and be petted. He is simply one of the gentlest dogs foster mom has ever encountered. Dexter also loves to talk to you, he will bark and talk when he wants a treat or some attention.
Dexter is working on commands sit, stay, down etc., and he is a very fast learner. We are continuing to work on his house training. He still has the occasional accident, but now he's alerting us to when he needs to go outside. He loves to lie on the couch, but he does not jump on the bed. Dexter doesn't seem to get the concept of jumping up on the bed even though he is allowed to. So at night he is comfortable sleeping next to you on the floor on a fluffy dog bed. He is not a fetcher nor interested much in toys, however he loves his rawhide bones and treats. He weighs around 73 lbs. right now, and needs to put on at least 5-10 more lbs. according to his vet.
Dexter is a charming, delightful dog. If you are looking for a cuddly, sweet, super mellow dog he's your guy. His foster family loves him dearly, and will miss him greatly, but know that he will find a great home. We know there is a special family for this special dog.
Dexter will be neutered soon, and will be ready for adoption sometime around the end of April, after he has completed treatment for heartworms.
UPDATE
4/22/2016
Dexter had a recheck with the vet today. He is doing well and will be able to attend the meet n greet in two weeks. Due to the high level of heartworm infection Dexter had, he suffered some enlargement of his heart. Dexter is a happy, loving boy, and he can have a normal life, but will not ever be a highly active dog. He is not a candidate for a running partner, or for long hikes in the mountains, but he is the perfect companion and playmate for a family.
4/6/2016
Dexter had his second round of heartworm treatment today. Now he has four more weeks of rest and recovery ahead before he is cleared for adoption. He's been such a trooper so far, please send good thoughts for a smooth recovery through this final stage of treatment. Dexter should be ready to meet his new family after the first week of May.
2/21/2016
Dexter will have his first heartworm treatment tomorrow. He will need a two stage treatment and will go back to the vet in a month for the second round of injections. We will update as he progresses through treatment.