KATE-15-164 | F | 7 YRS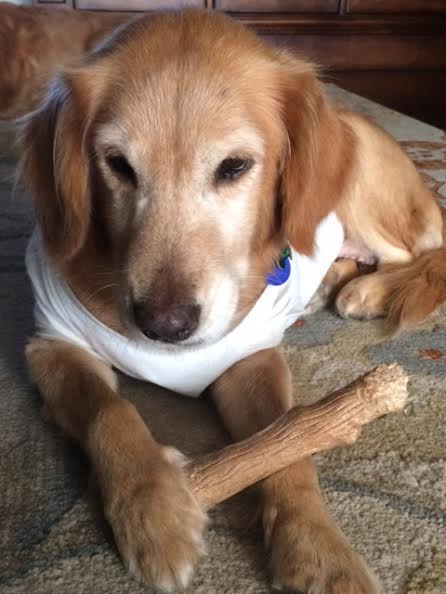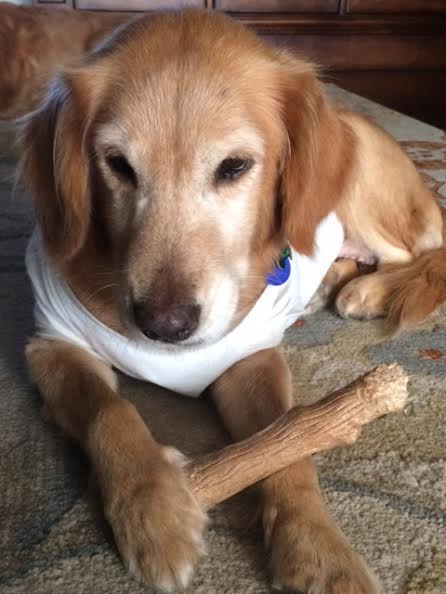 sold out
KATE-15-164 | F | 7 YRS
Breed: Golden Retriever
Gender: Female
Age: 7 Years
Date of Birth: ~2008
Color: Gold
Weight: Average
Height: Average
Medical/Other Notes:
Heartworm positive - treatment now finished
Needs to be spayed - done
Click pictures above for a much larger view.
Kate was found as a stray and her owners could not be located. A kind person contacted GRRNT to help take care of her. Kate is brand new to GRRNT and we will have more information about her soon.
PROFILE
Kate is a 7-year-old Female Golden Retriever who is quite shy and needs the consistency of a forever family to bring her out of her shell.
Kate was found as a stray and seems to be used to staying outdoors. When she is taken outside, she crawls under the bushes and scratches out a "nest" to lie down in, so her foster mom thinks Kate must have spent her days outside looking for cool, shady spots.
She does not know any commands, but her foster mom is working with her on that. She is also skittish on hard surface floors. Her foster mom has laid little mats on her hardwood floors and Kate will move from one to the next to get around. She is getting a little bit better so hopefully in time she'll adjust to them. But, if not, she will definitely need to go to a carpeted home!
She gets along with other dogs and is learning to play. At first, Kate wouldn't engage when her foster sister would try to nuzzle or paw her, but she's reacting a bit more playfully now. Kate has not been interested in toys, so we don't think she's ever had much exposure to them.
Kate enjoys walks and is doing well on a leash. She doesn't really react to other dogs while on her walks. She loves attention and affection, and moves from room to room with her foster mom.
She has not been around small children, but her foster mom thinks she'd be OK with them as long as they behaved well around Kate.
Kate is being treated for heartworms and then will be spayed -- after that, she will be ready to find her forever family.
UPDATES
01/01/2016
Kate's foster family has continued to see her making progress over the last month. Her confidence level increases the more she realizes she is in a safe environment. There are still certain instances that trigger Kate's anxiety making her feel insecure but overall she is doing better. Kate continues to follow foster mom wherever she goes in the house, but she is beginning to return to where her foster sisters are once she knows foster mom's whereabouts.

Kate needs to be in a home with another dog. The companionship is critical for Kate to thrive socially and will help her feel safe when her humans leave the house.
12/19/2015
Kate has been spayed and had some lumps and bumps removed, which were all benign thankfully. The wound on her back needed a few stitches to fully close it, but it is healing well now. She has made it through all her various medical treatments and is ready to start interviewing candidates for her forever family. Come visit with this sweet girl at the next adoption meet & greet in January and see if you might be the one!
12/16/2015
Kate has been in her new foster home for a week. She gets along very well with our 2 senior dogs. She is in tune to their behaviors and models her actions accordingly. Kate is learning to play with toys as you can see from the attached photo. She is still uncertain about most of the items in the toy box but the bone appears to be the least intimidating. Kate loves to go for walks. She does get anxious before we leave for the walk as she is fearful of getting left behind. Once she knows she is part of the outing she calms down and walks well on the leash.
As each day passes Kate's confidence level grows and she is becoming more assertive, (in a positive way). Kate is learning that being outside is a pleasant experience. Today she laid beside her foster sister outside in the sun. Kate likes to keep everyone within sight. She typically follows foster mom wherever she goes and she does the same with the other dogs if they get up to move spots in the house. She is a gentle and loving girl who is always wagging her tail. You can't help but smile when you see her.
12/2/2015
Kate will see the vet tomorrow for her final follow-up for the heartworm treatment. If she gets the all clear she will be scheduled to be spayed. The vet will also evaluate some growths on her mammary glands and determine if one or both should be removed. Her skin infection is still healing may need a few more weeks of treatment.
11/15/2015
Kate had her second round of heartworm treatment on the 4th. She had a reaction at the injection site, which resulted in an infected wound. She's being treated for that now also, and is on the mend.
10/13/2015
Kate had her first heartworm treatment 8 days ago, and handled it all right. She clearly didn't feel well for a couple of days, but has since stabilized. She's warmed up to her foster family, understands the household routines, and seems very comfortable with her canine foster sibling. Kate was initially so skittish and anxious that there was concern we could keep her heart rate down during treatment. But with each passing day she is a bit calmer and more relaxed and at ease. She will have her next heart worm treatment in early November.
10/5/2015
Kate had her heartworm treatment today. Now she will spend the next several weeks resting and recovering. She will need a second round of treatment in about a month. We will posts updates about her as she progresses through treatment.