RUMOR - 16-140 | F | 5 YEARS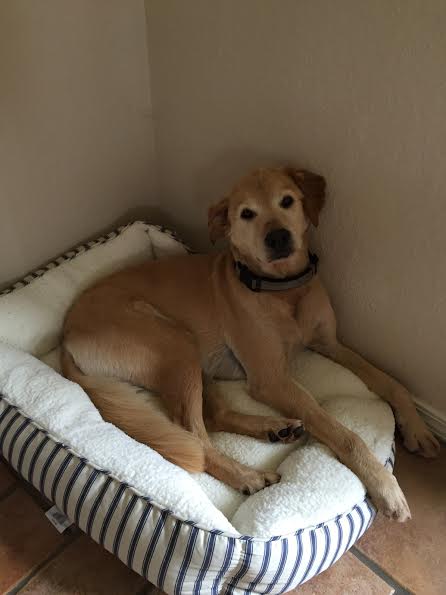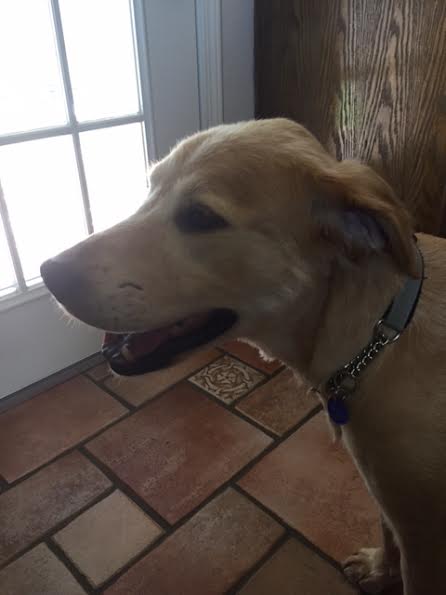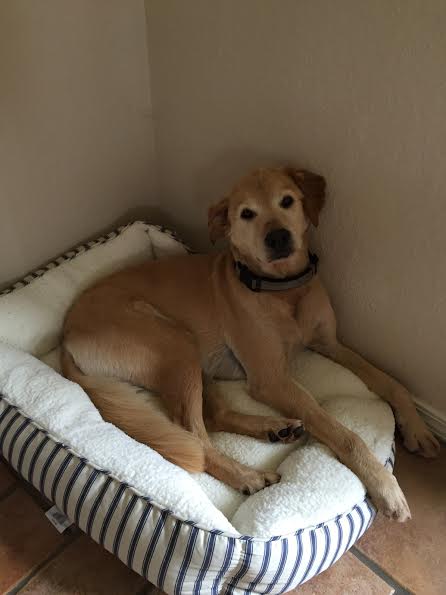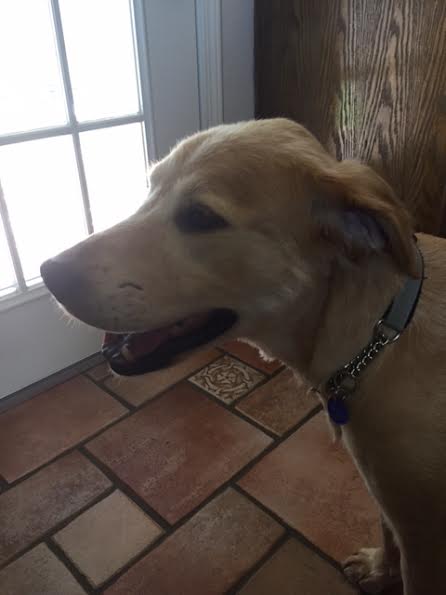 sold out
RUMOR - 16-140 | F | 5 YEARS
Breed: Golden Retriever
Gender: Female
Age: 5 Years
Color: Gold
Weight: 57 lbs.
Height: Average
Medical/Other Notes:
Share
Click picture above for a much larger view.
Rumor was found as a stray, and efforts to find her owner were not successful. She had a rough go on the street. Her coat was very matted, to the extent she had to be shaved, and she was infested with fleas. Rumor is not comfortable around other dogs, so we are looking for a foster home or an adoptive home without other dogs for her.
PROFILE
Rumor is a lady from head to toe. She is very dainty on her feet and she eats, drinks, and takes treats in the same way. She knows commands like sit, stay back, lie down and come—though she doesn't always obey. She is completely house trained. She is very content to just be in foster mom's presence—not pushy for attention—though she will saunter over for a rub or pat now and then. She behaves the same way when visitors come. She has only been in her foster home a few days, but the last two nights she has stayed on her doggie bed all night long, even though she could come and go from my bedroom to the bathroom where her dog bed was.
Rumor is an accomplished escape artist, and needs to be watched at doorways, house, car doors and fence gates. Getting her out of the car the first time was a learning experience, as she attempted to push her way out the driver's door as soon as it opened, and she tried several times to bolt through the kitchen door into the garage. She seems to know the command "stay back," and if you tell her that before opening the door she will stop. When she first arrived, she checked out the perimeter of the fence to see if there was an escape route, and finding none, now does more sniffing than anything. She enjoys rolling in the grass or just lying in the shade for a bit to take in the early morning breeze. She is very attentive to animal sounds, live or on TV—neighbor's barking dog, a squirrel, birds, etc., but she has not barked once. She also perks up if she is outside and a car goes by. She would chase a squirrel or a rabbit if she could! Rumor was not comfortable around the few dogs she has met since coming to GRRN. We think she will be happiest as the only dog in the home, and probably best with older children (not toddlers).
Rumor was a very good girl while foster mom was gone for few hours. She tolerated being left in the kitchen behind a puppy fence. When foster mom returned, there she was lying on her bed just waiting, and she had not disturbed anything in the kitchen.
So far Rumor is one mellow young dog. She has not shown interest in playing with toys or tennis balls, or romping around, but that may change as she becomes more at ease. Right now, she seems perfectly happy to go in and out when she needs to and then sleep on her dog bed.
Because of Rumor's gentle and mellow temperament and her ability to be quite the escape artist, a rather calm household with vigilant forever parents would suit Rumor well. Early signs indicated that Rumor is also dog reactive, and so we believe it is best to place her with a family where she is the only dog. Rumor is a sweet girl, and she will ready to find her forever home very soon.
UPDATES
7/25/2016
Although Rumor was a very easy foster dog to care for from the very beginning, her foster mom reports that now after ten days, Rumor has only gotten better. She remains very mellow and sweet-mannered and can be trusted not to destroy anything in the house, even if she is left alone. Rumor is neither demanding nor high-energy, yet she can be playful when stimulated with toys or by urgings from her foster mom or visitors. Rumor's tendency to dart out open doors (house, car, and gates) has lessened over time with her foster mom's consistent use of "stay back" and "wait." Continual reinforcement of all commands through training would be beneficial to Rumor and her adoptive family.
Rumor does not like to be penned in, no matter how big the space is. Left by herself, she will tolerate being confined in a large space if she has to, but if there is an escape route to be had, she will find it. Rumor is very agile and can be quite ingenious in getting over a penned-in area. At times, her foster mom has allowed Rumor the "run of the house" while she did brief errands; all was in order when she returned. Her foster mom also reports that Rumor is always on high alert for critter noises in the backyard, especially squirrels, and will spring into action very quickly. It is best to make sure all is clear before letting her outside.
7/21/2016
Rumor has been with her foster family for a week now. She is a model dog in the house! Foster mom hardly know she is there. Outside she is a squirrel sentinel par excellence! No squirrel is going to peek its head over the fence and get away with it. She stands guard until she is satisfied the critter is gone. Rumor is good outside as well—she doesn't dig or trample flower beds. She is feeling more at home in her surroundings and as such Rumor's little personality is beginning to emerge. Yesterday, for the first time, she was playful with foster mom and this morning she actually played with her Booda bone. A milestone for sure.