ZIGGY - 16-104 | F | 7-8 MONTHS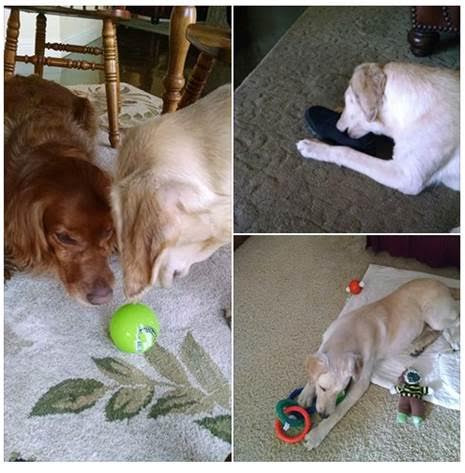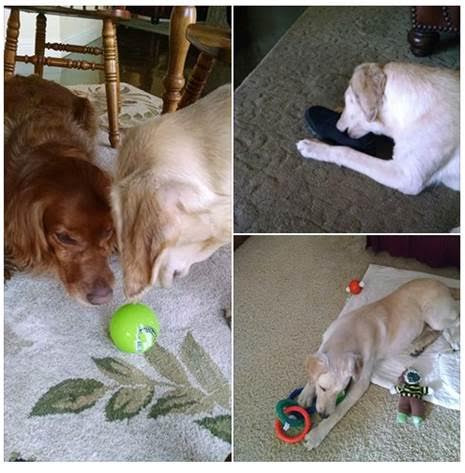 sold out
ZIGGY - 16-104 | F | 7-8 MONTHS
Breed: Golden Retriever mix
Gender: Female
Age: 7-8 months
Weight: 50 lbs.
Height: Average
Medical/Other Notes:
Needs to be spayed
Needs booster shots
Click picture above for a much larger view.
Ziggy is a 7 to 8 month old female puppy who was found as a stray out in the country along with Dash. The pups came into GRRNT care with a bad case of sarcoptic mange and spent a couple of weeks at the vet being treated. The pups are doing much better and have just gone to their foster homes this week. We will have more information about them soon.
PROFILE
Ziggy is a very sweet and good natured 8 month old puppy with lots of personality. She is very loveable and loves to snuggle with her foster parents when they let her on the bed, and she will lie right up next to you and loves when you pet and love her. She is good with standing still while you bathe and brush her. She walks well on the leash, but does startle easy by passing cars or passing leaves. She does well in the crate and does not bark or cry when she is in there. She is learning "sit", and "wait" at the door when opened till asked to enter/leave. She is learning "fetch". At first she would run for the toy but not always bring it back, and now she is learning to bring it back to you and "drop" the toy.
She loves to play and wrestle with her canine sibling, and they wrestle around constantly. She rarely barks and will stop when asked. She is housetrained, but you need to watch your shoes or other things left on the floor, because as any typical puppy she likes to make them her own. It will be a good idea to have sturdy chew toys for her. She does need to be supervised in the kitchen as she will counter surf, and is always looking for something to eat. She has even managed to get inside the dog food container by being persistent in nosing around it till the lid gives way. She is a smart girl, and she will benefit from training classes to help channel that intelligence to positive activities.
Ziggy likes to sneak onto the furniture, but quickly gets down when asked "off". Foster dad is home during the day with her so she is not crated while he is there. She has been left out of the crate when he runs quick errands, and she has behaved perfectly. She has also been left in the backyard unattended and has not tried to escape. She has done some digging in the flower beds, but she is learning not to do that.
Ziggy is very active young lady, and she is looking for a forever family who will give her lots of play time and take her on long walks. She is a playful puppy, full of energy. She really enjoys playing with the other dog in her foster home, and will be happiest with a playmate. Someone home with her at least part time will be ideal since she is still a pup and needs lots of time and attention. Ziggy is ready to find her forever family to share all her love with.
UPDATES
Ziggy is settling into her foster home very well. She is having a great time wrestling and running around the back yard with her canine foster sibling. Foster mom has taken Ziggy on a few walks and she is doing very well on the leash. She is crated at night, but she is out and about during the day. In typical puppy fashion, you have to keep an eye on the shoes on the floor since Ziggy likes to "find" them. She is a lot of fun, with a great, loving personality.